Everything you need to know about charging an electric car
Probably the most significant change you will experience when switching to an electric car is that you have to charge the car instead of refuelling it. But how does it work and how long does it take to charge? Find out everything you need to know about charging an electric MG.
To start with, you can charge the battery of an electric car in three different ways. With a household socket (alternating current, AC), at an EV charging point (also alternating current) or with a fast-charger (direct current, DC). Each MG is equipped with a charging socket that fits a type-2 plug, also known as a Mennekes plug. This plug was designated by the European Commission in 2014 as the standard for charging electric cars with alternating current.
There are two types of cables for charging with AC. One cable has a standard plug on one side and a type-2 plug on the other. You must use this cable if you want to charge the battery with a household socket, which called mode 2 charging. The other cable has a type-2 plug at both ends and you need this cable to use a (public) charging point on the street, in parking garages, on business parks, etc. This is called mode 3 charging. You can also have an EV charging point (wallbox) installed at home. The MG Brand Store offers a choice of accessories needed for charging and is ready to advise you on the most suitable cable for your use.
With the exception of the MG EHS Plug-in Hybrid, you can also charge the electric car at a fast-charging station with direct current, which called mode 4 charging. For this, you use the type-3 charging cable that is attached to the charging station. The type-3 plug – also know as a CCS plug – is the European standard for fast-charging with direct current since 2017. It looks like a type-2 plug, but with two extra contacts. CCS stands for Combined Charging System.
There are no separate charging sockets for a type-2 and type-3 plug. The car only has a CCS connection. If you want to charge with a type-2 plug, just plug it into the top part of the car's plug socket.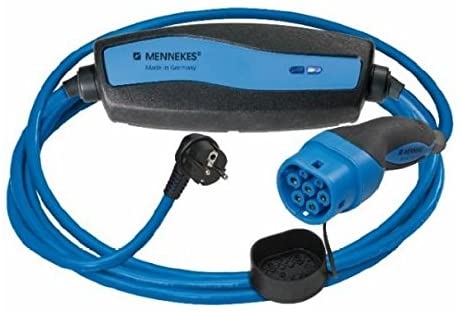 How long does it take to charge?
The time it takes to charge the battery depends on several factors:
– The maximum power that the charging point can deliver (in kW).
– Whether the charging point works with alternating current or direct current.
– The car's on-board charger that determines the maximum power (in kW) that can be used to charge the battery.
– The battery capacity in kWh.
It is good to know that the weakest link determines how quickly the battery is charged eventually. How long it takes, depends on the battery capacity obviously. Keep in mind that factors such as ambient temperature and battery condition also affect the actual charging time.
Charging via household socket
Charging from a household socket takes the longest. The grid voltage in Europe is usually 230 volts and the power supplied by the socket between 2 and 3.7 kW. If we take the MG ZS EV as an example – which is equipped with a 44.5 kWh battery and a 6.6 kW on-board charger – it roughly takes between 14 and 25 hours to charge the battery from 0 to 100%. In this case, the car's on-board charger doesn't affect the charging speed. This is only determined by the power of the socket and the battery capacity.
Charging at an EV charging point
An EV charging point provides a higher capacity than a household socket. In practice, the power is between 7.4 kW and 22 kW, depending on whether the charging point is connected to a 1-phase or 3-phase grid connection. The MG ZS EV has a 6.6 kW on-board charger. This means that, regardless of the capacity of the charging point, the battery is charged with a maximum of 6.6 kW. In this case, charging time to 100% takes between 6 and 7.5 hours.
Charging at a fast-charging station
There are also charging points that work with direct current instead of alternating current. These are the so-called (ultra) fast-chargers, which you'll mainly find along the motorway.
The alternating current from the grid is converted to direct current in the charging station. The inverter in the car is bypassed, allowing much higher charging capacities, from 50 kW to well above 150 kW. This allows you to charge the battery of the MG ZS EV to 80% in just 40 minutes, or 100 km driving range in 15 to 25 minutes.
With fast-charging, up to 80% is charged because the charging speed of a lithium-ion battery then drops so much, it doesn't makes sense to fast-charge any longer.
How much does it cost to charge up an EV?
Unlike at a petrol station where you pay directly at the counter or payment terminal, starting and ending a charging session at a public charging point is done with a personal charging card. They look like a debit card or key ring. The charging costs are automatically charged afterwards. The invoice for this usually comes once a month.
Despite the fact that fuel prices and electricity costs per kWh in European countries can vary considerably, we can say one thing with certainty. Electricity is cheaper than petrol and diesel. In this respect, you can save money with an electric car compared to a car with a combustion engine.
The actual charging costs vary per charging station operator. Charging at home is usually the cheapest option, fast-charging the most expensive. It's wise to first check which payment method is used if you want to charge at a public charging point. You usually pay a rate per kWh. However, there are some charging stations in Europe where you pay a rate per minute, especially in busy, popular tourist areas. It will cost you considerably more to charge the battery if you pay by the minute, which can cause unpleasant surprises on your bill.
Curious where you can find a charging point? There are various websites and apps with which you can quickly and easily find all public charging points in Europe, such as Plugsurfing and Chargemap.